Discord Rebrand
Imagine A Place Campaign & Brand Guideline

Discord is a versatile communication platform that connects people through voice, video, and text chat. Originally for gamers, it's now a popular space for various communities to connect and collaborate online. Its mission is to create space for everyone to find belonging. Playfulness is the core value of the brand.

Discord underwent a rebranding in 2021 to refresh and align its brand identity with its evolving platform and audience. As Discord grew beyond its original gaming-focused community to include diverse interests and communities, the company recognized the need to reflect these changes in its branding. The rebrand aimed to create a more versatile and inclusive image that resonated with a broader user base while still staying true to its gaming roots. It also aimed to position Discord as a platform for communication and community-building, not just for gaming but for all kinds of communities. This rebranding helped Discord communicate its brand message more effectively and connect with its expanding user community.

As an art director and graphic design lead at Discord, I worked collaboratively on the Discord Imagine A Place rebrand campaign, I played a vital role in defining the new brand guidelines and executing some key visual elements and layouts. 
I developed a unique visual system using shapes to represent our audiences, communities, and content working closely with our partner agency AKQA. Through impactful graphic design concepts, I effectively communicated the evolved voice and tone of the Discord brand.

In order to tell the stories the way they were told the brand design language has taken distinct cues from the design language used in the product of Discord. On a higher level, you will recognize geometric shapes that define users, community, and content in the core components.
​​​​​​​
On a more granular level, you will notice details such as a user's status or an active community. It's all designed to be playful yet purposeful.
The storytelling device we have defined is open for interpretation but still confined to certain styles and ideas. We created a brand design system where mixed art creations made with 2D and 3D illustrations were placed into the real world. Every creation is driven by the user stories.
This rebranding work was part of a repositioning of the brand where the new brand line 'Imagine A Place' played a key role in every execution. 
​​​​​​​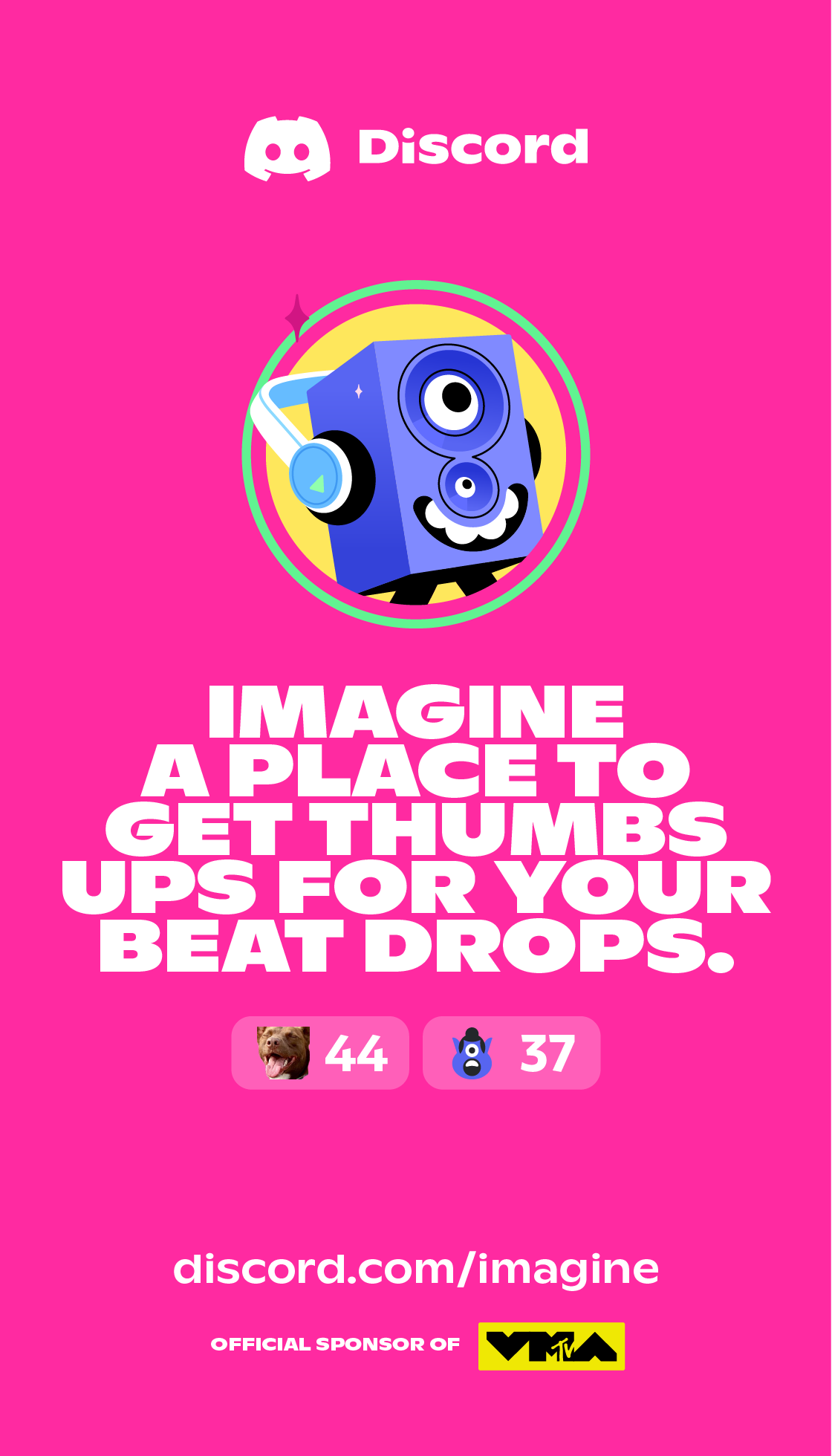 My Roles & Responsibilities
Unified the product's visual language with Discord's brand identity; Created graphic designs for key static assets and animated assets for
the re-brand launch blog
; Led the Discord Design Team (Discord Art School) in evolving and updating the Brand Guidelines.
Amo Zhou (Graphic Design); Justin Middendorp, Kevin Dam (Illustrator); Elie Dagher (3D Artist); Mark Donnelly (Copywriting); Kevin Tang (3D Animation); Tesa Aragones, Bemnet Yemesgen, Tory Grove, Molly Kosty, Kenny Layton, Eric Barnett, Elisa Marin, Mindy Day (Crossfunctional Teams); Fiona Kim Tran, Jackie Chen (Graphic Design for Discord at VMA)
Hugo Barne, Arendse Rohland, Noe Sato, Thor Hedegaard, Lexington Baly, Erik Herrström, Gijs van de Wal, Shiko Mura, Christian Detken, Hannah Portner, Bethany Wong, Boris Loeve, Elise Hagedoorn, Evan Dunn, Mark Toal Lennon, Geoff Northcott, Alex Rose, Miriam Plon Sauer, Nicolai Smith, Peter Lund
Koto played a key role early in the process of defining the core brand elements such as the symbol, wordmark, blurple color, and typeface choice.